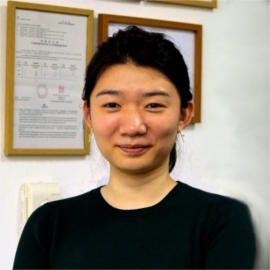 Book a lesson with Agnes
Agnes
Mathematics
IB Examiner
Book a lesson with Agnes
Available Location : Sheung Wan Branch & Fo Tan Branch
Graduated with M.Sc. in Mathematical Modelling and Scientific Computing and B.A. (Hons) in Mathematics Science, First Honour, from Oxford University
Achieved four A's in GCE A-level and one A in GCE AS
---
Agnes obtained a First Class (B.A. Hons) degree in Mathematics at the University of Oxford before switching to a Master of Science degree in Mathematical Modelling and Scientific Computing, also at University of Oxford. Her master's enabled her to further explore the application side of maths, particularly on the numerical approaches of Alan Turing's pattern formation theory. Before university she attended Concord College at Shrewsbury, United Kingdom and Shenzhen Foreign Languages School in Shenzhen, China.
After graduating Agnes joined CANA. She co-edited and helped publish three academic titles for IB maths students with an IB senior examiner. In addition to teaching, Agnes relies on a network of trusted advisers and consultants to help students with various challenges, and remains good friends with her former students.
Currently, Agnes is a Director of CANA. She oversees the Sales and Marketing department, co-leading the UK Admission Consultation Team with Joyce, as well as working on business development. She leads the One-Year International A-Level Course as well as the CANA Elite University Talks, a series of sample lectures and admission seminars delivered by respected academics from prominent universities in the UK.
---
TESTIMONIALS
Cana provides valuable advice on college selection which helps my daughter to develop an appropriate college list and find a best fit college. We have a better understanding of the U.S. college admission processes. Cana also provides good guidance in selecting essay topics and approaches which allow Esther to articulate who she is and what matters to her in a genuine and impressive way.
Cana teachers are experienced and dedicated – they'd go out of their way to make sure that I am well prepared for tests and assessments. I feel perfectly comfortable asking both difficult and easy questions because my teachers are understanding and accommodating. They answered each question with clarity and patience.
The tutor, being a graduate of Law from Cambridge, is very familiar with both legal concepts and the Oxbridge interview style. He is also one of the most articulate, critical and intelligent people I have ever met. During the sessions, he pushed and challenged me with the toughest and most difficult interview scenarios and questions. In many cases, I didn't know how to answer them, but he taught me that the most important focus was the reasoning process, not the answer itself. The training proved to be extremely applicable during my real interview.
I knew I was in safe hands after my very first lesson with my consultant. The reading material provided much inspiration for my personal statement, and I was also pushed to navigate through difficult legal scenarios. Never did I imagine that I could feel so passionately about a subject, and would therefore like to thank "Cana" very, very much.
I am very impressed with the quality of the tutors. They are able to identify the students' problem at once, maybe even before the students realize, and are able to deliver suitable and effective measures to help students. A struggling student will improve a lot; a proficient student will be able to further secure their marks. A truly wonderful education centre.
The IB was tough and grueling program, but I credit my peers, teachers and the wonderful tutors at Cana for providing a challenging and fulfilling environment for me to learn. Cana tutors are not only knowledgeable in their fields but also approachable; willing and able to answer any questions I had on hand. Overall, I'm really happy with completing the IB and I can definitely say that the feeling of accomplishment after receiving my score made all the hard work worth it.
---
OUR SUCCESS STORIES
IBDP
50% scored over 40/45
IBDP
27% scored over 43/45
IGCSE
Obtained A/A* in IGCSE
ACT
Average Improvement in ACT Composite Score
SAT
Scored 700+ in SAT Math
SAT
Scored 660+ in SAT Reading/Writing
University Admission
Oxbridge Success
University Admission
Oxbridge Law Success
University Admission
HK Medical School Success