---
QUALITY EDUCATION
Interactive learning with great exam tips
---
OUR TEAM
Outstanding teachers make an outstanding tuition centre.
Our teachers are graduates of top-ranking British, U.S., or Canadian universities and have consistently achieved records of distinction throughout their academic paths. Besides being excellent tutors, they are role models who motivate and inspire students to aim high, work hard, and work smart towards maximizing their capabilities.
---
OUR SUCCESS STORIES
Here at CANA Elite, we truly believe that every student is unique and has the potential to reach their goals with the right guidance. Academic excellence is derived from both passionate teachers and eager students. That is why we provide a unique learning experience tailored to each individual student. Named after the location of the first miracle in the Bible, we hope CANA elite can be the place of miracles for all our students, allowing them to achieve their dreams.
---
NEWS AND EVENTS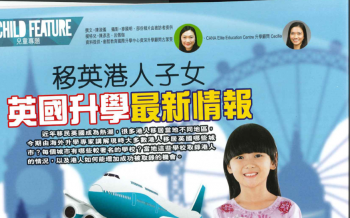 Interview from Eugene Group, Super Parents: Studying in the UK
Our admissions consultant was invited by Eugene Group, Super parents, to share about studying in UK boarding schools. We shared areas to consider for studying overseas, as well as strategies on school selection.
Read More →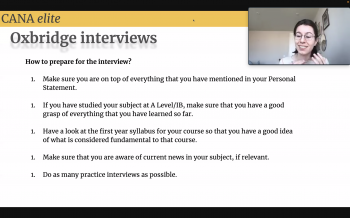 2022 Oxbridge Webinar
After our well-received webinar in 2021, we are pleased to welcome our consultants Ms Amanda (Natural Science, Cambridge) and Ms Emilia (PPE, Oxford) back to share with our students. The sharing focused on their personal experience at Oxbridge, latest updates of the Oxbridge admissions, as well as advice on preparing for the Oxbridge interview, admissions tests, personal statement, and college selection. *photos to come for the Oxbridge webinar
Read More →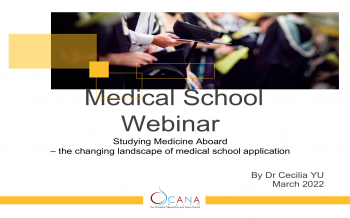 2022 Medicine Webinar
We are pleased to invite Dr. Cecilia to share with prospective students applying for Medical Schools (UK/HK). Dr Cecilia shared insights on the UK medicine courses, academic and job shadowing requirements, timelines for UCAT and BMAT, personal statement, and MMI / panel style interviews. She also advises the application strategy, and addresses many students' enquiries on preparing their application during the covid pandemic. Thank you Dr. Cecilia for sharing with us!
Read More →
---
GALLERY