CANA Online Learning
CANA understands every student's needs and we realise that many students have busy school schedules, but still need a helping hand to get through difficult work. Our online learning tuition option allows you to learn at any time, anywhere. It is the ideal solution to all your scheduling problems and can be especially beneficial in the following situations:
If a student is studying overseas and continual academic back-up is needed.
If a student needs a time-saving option with less travelling time.
If a student would like the flexibility of taking lessons in a comfortable place – at home, or wherever you want.
What does Cana online learning offer?
To fulfil the needs of Cana's students, we have launched an online platform that allows students to conveniently access our high quality services and professional guidance from experienced teachers, wherever and whenever they want.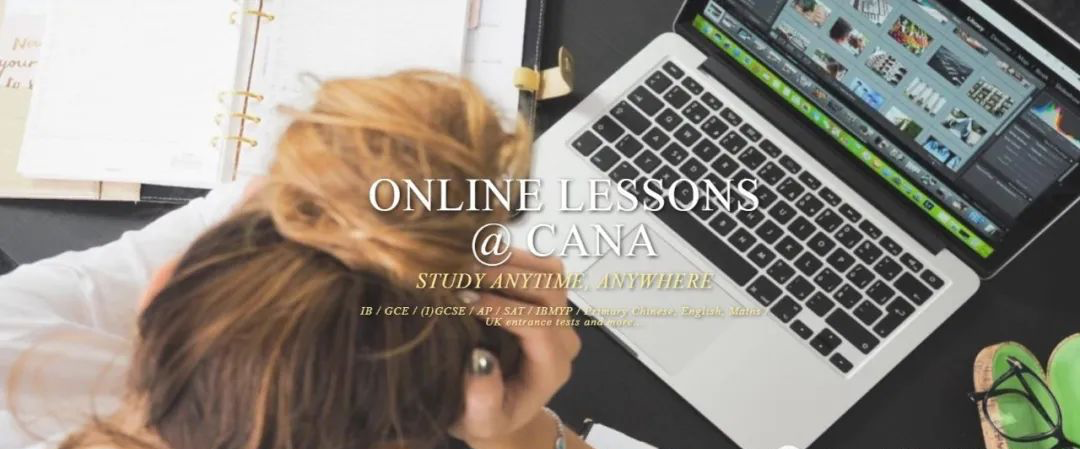 Cana offers the following features to target and improve learning:
Experienced teachers: Our platform provides teachers from Hong Kong, Singapore, USA, UK, Canada etc. that have experience in living, studying, and teaching abroad. Many are certified with teaching degrees and have taught their subject in international schools.

High quality online education with up-to-date software: The online platform embraces more than academic tuition for IB, GCE, (I)GCSE, SAT, ACT and AP. It also covers University Admission Consultation services for the UK, US and HK applicants and includes essay editing, interview coaching and entry tests preparation. Our wide range of services takes good care of your educational needs from all angles. Our teachers deliver their lessons while simultaneously making notes with students through virtual documents, blackboards, animations, or videos. This improves the amount of information that students retain. Additionally, students can get the most effective and efficient learning experience out of the limited lesson time.

Our teachers understand and relate to the students: Many of our teachers have gone through the exams and hurdles that their students are aspiring to go through. They were in the same position once, and have moved on to attend prestigious, celebrated universities around the world. Therefore, they know what teaching methods, skills, and tactics work most effectively to help students understand and absorb the material.
How does Cana leverage technology to improve the online learning experience?
Cana uses several solutions to create an online experience that is comparable to in-person learning, and makes online education as similar to in-person lessons as possible.
Personal tablets to replace blackboards:
Using tablets allows for teachers and students to communicate quickly and visually, just as if they were interacting in-person. It brings the collaborative process back to online education, instead of a one-way information transfer.

Relaxed learning at your own pace:
On Cana's IB learning platform, Canalopy, students can access the learning materials that suit their level, and learn at whatever pace they like. If a student is weaker in certain areas, Canalopy allows them to take the time to fully learn and absorb the information, instead of struggling to keep up with their class' pace.
Explanations of textbook material:
If a student struggles to learn directly from a textbook, online teaching can help. Our teachers can select the most relevant material and main points, so that students don't get overwhelmed with information. Additionally, teachers can add their own explanation in terms that are clear, simple, and adapted to each student.

Lessons come with notes:
In lessons, teachers will explain the material and help students to make electronic notes at the same time, guiding them with effective note-taking and a true understanding of the topic. Moreover, students can see the working-out and step-by-step process of the teacher, which is particularly helpful for subjects like maths and sciences.

Electronic practice exams and detailed marking:
Our teachers aim to provide the same quality of electronic marking and feedback as they would give in person. We even use red pens!
Assured Teaching Quality
Our outstanding online platform gives you the opportunity to access our prominent tutors who have graduated from top schools around the world. CANA's tutors are well-selected and trained. As well as good credentials, we also have great knowledge and experience in providing educational support. With our professionalism in teaching, any educational worries on various subjects and curricula can be easily settled.
Arrange an online trial lesson now!
Here at Cana Elite, we hope for every student to succeed in their academic endeavours. Everyone has a different ultimate goal. We are here to help foster passionate and hardworking students that will strive for their goals. Whether students are studying IB, I/GCSE, GCE, SAT, ACT, AP, or other syllabuses, they will find support here at Cana.
If you are a student looking for online tuition, click here to book a half priced trial lesson, and click here to listen to what parents/students say about us.
If you are applying to universities, we offer a university applications service that covers the UK, US, and Hong Kong universities. Our services include subject tuition, university application exam preparations, personal statement guidance, and interview preparation. Click here to find out more about our university application service, and click here to check out our admissions service record.
---
OUR SUCCESS STORIES
Here at CANA Elite, we truly believe that every student is unique and has the potential to reach their goals with the right guidance. Academic excellence is derived from both passionate teachers and eager students. That is why we provide a unique learning experience tailored to each individual student. Named after the location of the first miracle in the Bible, we hope CANA elite can be the place of miracles for all our students, allowing them to achieve their dreams.