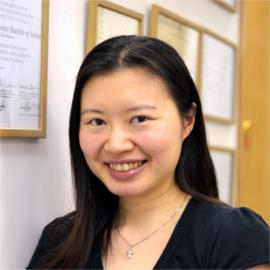 Book a lesson with Joyce
Joyce
Economics
IB Examiner
Book a lesson with Joyce
Available Location : Sheung Wan Branch
M.A. (Hon) and B.A. (Hon) in Economics from University of Cambridge
Examiner of the IB
Full scholarship to Cambridge
Awarded an exchange scholarship to study at MIT
Attended Li Po Chun United World College of H.K.
Attained 44/45 in the IB Diploma
Extensive teaching experience in Economics for various curricula including IB, GCE, and GCSE
---
Joyce is a strong believer of mentorship and "life impacts life" (生命影響生命). Her passion for education was apparent from a young age. She took a gap year between high school and university to teach English at a local Beijing school, an experience which solidified her passion for pursuing a lifelong career in education. She has also volunteered as a mentor at the Breakthrough Organisation, the After School Organisation, Maryknoll Convent School as well as the Hong Kong Federation of Youth Groups.
Joyce graduated with a BA (Hons) in Economics from the University of Cambridge. She received a full scholarship to support her studies. As part of Joyce's Cambridge education she also spent one year at the Massachusetts Institute of Technology (MIT) as an exchange student. Before Cambridge, she attended the Li Po Chun United World College of Hong Kong and the Maryknoll Convent School.
After graduating Joyce began her career as an analyst at McKinsey and Company, a management consulting firm that advises the senior management of leading companies. After McKinsey she became the co-founder and director of CANA, an education institution that focuses on international education. This year she founded a non-profit branch of CANA in order to provide support for less privileged students in Hong Kong. In addition to her duties at CANA Joyce is also the education column writer for the AM730.
---
TESTIMONIALS
I am very impressed with the quality of the tutors. They are able to identify the students' problem at once, maybe even before the students realize, and are able to deliver suitable and effective measures to help students. A struggling student will improve a lot; a proficient student will be able to further secure their marks. A truly wonderful education centre.
The IB was tough and grueling program, but I credit my peers, teachers and the wonderful tutors at Cana for providing a challenging and fulfilling environment for me to learn. Cana tutors are not only knowledgeable in their fields but also approachable; willing and able to answer any questions I had on hand. Overall, I'm really happy with completing the IB and I can definitely say that the feeling of accomplishment after receiving my score made all the hard work worth it.
Cana teachers are experienced and dedicated – they'd go out of their way to make sure that I am well prepared for tests and assessments. I feel perfectly comfortable asking both difficult and easy questions because my teachers are understanding and accommodating. They answered each question with clarity and patience.
The tutor, being a graduate of Law from Cambridge, is very familiar with both legal concepts and the Oxbridge interview style. He is also one of the most articulate, critical and intelligent people I have ever met. During the sessions, he pushed and challenged me with the toughest and most difficult interview scenarios and questions. In many cases, I didn't know how to answer them, but he taught me that the most important focus was the reasoning process, not the answer itself. The training proved to be extremely applicable during my real interview.
Cana provides valuable advice on college selection which helps my daughter to develop an appropriate college list and find a best fit college. We have a better understanding of the U.S. college admission processes. Cana also provides good guidance in selecting essay topics and approaches which allow Esther to articulate who she is and what matters to her in a genuine and impressive way.
I knew I was in safe hands after my very first lesson with my consultant. The reading material provided much inspiration for my personal statement, and I was also pushed to navigate through difficult legal scenarios. Never did I imagine that I could feel so passionately about a subject, and would therefore like to thank "Cana" very, very much.
---
OUR SUCCESS STORIES
IBDP
50% scored over 40/45
IBDP
27% scored over 43/45
IGCSE
Obtained A/A* in IGCSE
ACT
Average Improvement in ACT Composite Score
SAT
Scored 700+ in SAT Math
SAT
Scored 660+ in SAT Reading/Writing
University Admission
Oxbridge Success
University Admission
Oxbridge Law Success
University Admission
HK Medical School Success