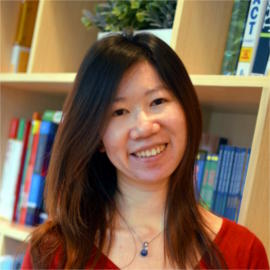 Book a lesson with Irene
Irene
Chemistry
Book a lesson with Irene
Available Location : Shek Mun Branch & Fo Tan Branch
B.Sc. in Chemistry at the Chinese University of Hong Kong

Grade A in HKCEE Chemistry and Biology

Attained a score of 800 in SAT Chemistry and 5 in AP Chemistry

More than 8-year teaching experience in tutoring Chemistry in IB, GCE, (I)GCSE, SAT and AP.

More than 12 year teaching experience in tutoring Chemistry at school and tuition centres
Irene graduated with a BSc in Chemistry at the Chinese University of Hong Kong (CUHK).Originally pursuing Nursing at CUHK, Irene discovered her passion for teaching after conducting private tuitions and receiving immense satisfaction. She came to realize that teachers play a significant role in guiding her students to achieve their potential. With this passion, she decided to transfer to Chemistry in order to become a Chemistry teacher. At the same time, Irene was active in various activities involving youths, such as organizing youth learning groups in GCyouth.net. In addition, she coordinated two simulation camps for secondary school students on selecting university subjects as well as mental preparation for the release of public examination results. In the process, she sought to develop her understanding of teenage issues in order to help them navigate various psychological and academic obstacles.
Soon after graduation, Irene joined the CANA team. Together with another CANA Chemistry teacher, they published a study guide and workbook for IB Chemistry and created teaching notes for different curriculums. In accordance with CANA's teaching philosophy, Irene believes that small group settings enable a streamlined teaching method that matches the students' learning style and individual needs. She also believes that the role of an educator is not only to teach students academic knowledge, but also to train students to explore their own learning methods and attitude.
Currently, Irene is the center manager. In addition to teaching, she manages the daily operation, develops courses, communicates with parents and teachers, and is involved in business development.
---
OUR SUCCESS STORIES
Here at CANA Elite, we truly believe that every student is unique and has the potential to reach their goals with the right guidance. Academic excellence is derived from both passionate teachers and eager students. That is why we provide a unique learning experience tailored to each individual student. Named after the location of the first miracle in the Bible, we hope CANA elite can be the place of miracles for all our students, allowing them to achieve their dreams.