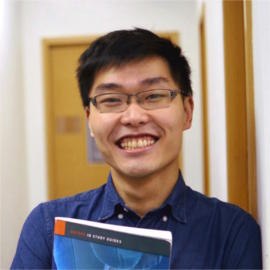 Book a lesson with Raven
Raven
Biology / Sports Science
Book a lesson with Raven
Available Location : Sheung Wan Branch
B.Sc. (Hons.) in Biochemistry from Chinese University of Hong Kong
Attained A Grade in Biology & Chemistry for the HK A-Level Exam and HKCEE
Extensive experienced in teaching Biology for different syllabuses including IB, GCE, IGCSE
Achieved an A grade in his Biochemistry Final Year Project on "Authentications & quality control of Chinese medicine and Food products"
---
Raven received his bachelor degree of Biochemistry at the Chinese University of Hong Kong. Raven developed his interest in Biology as a kid and the passion has not changed throughout his life. Thanks to the passion, he achieved excellent results in HKALE and continued his biology journey at university. After having been through countless training in laboratories and further input of biology knowledge from professional teachers and professors, he came to realise the importance to pass down his knowledge and assist youngsters who are determined to explore more about the biological world. This was where he started teaching and became one of the most sought-after tutors in CANA.
Raven started off as a private tutor which allowed him to develop his teaching and communication skills. At this stage, with the recipient of numerous positive comments from students, he strongly believed that teaching would be the one and only career he would pursue.
Not only private tuition classes, he also returned to his alma mater and volunteered to conduct bridging courses to students. He enjoyed the moment but also realised the restriction of delivering classes in traditional school. As a result, he chose to explore an education centre which shares the same vision in teaching: small classes and interactive teaching, and joined CANA to start his teaching career. At CANA, with his experienced teaching, many of his students increased their interest in the subject, improved their understanding and achieved excellent results in various public examinations. By building a good reputation, majority of existing students are here by word of mouth.
Currently, besides playing an important role in teaching, Raven is also the centre manager, striving to organise course structures, optimise the daily operation at the centre, train for new teachers, follow students' progress and provide professional academic advice to parents.
---
OUR SUCCESS STORIES
Here at CANA Elite, we truly believe that every student is unique and has the potential to reach their goals with the right guidance. Academic excellence is derived from both passionate teachers and eager students. That is why we provide a unique learning experience tailored to each individual student. Named after the location of the first miracle in the Bible, we hope CANA elite can be the place of miracles for all our students, allowing them to achieve their dreams.